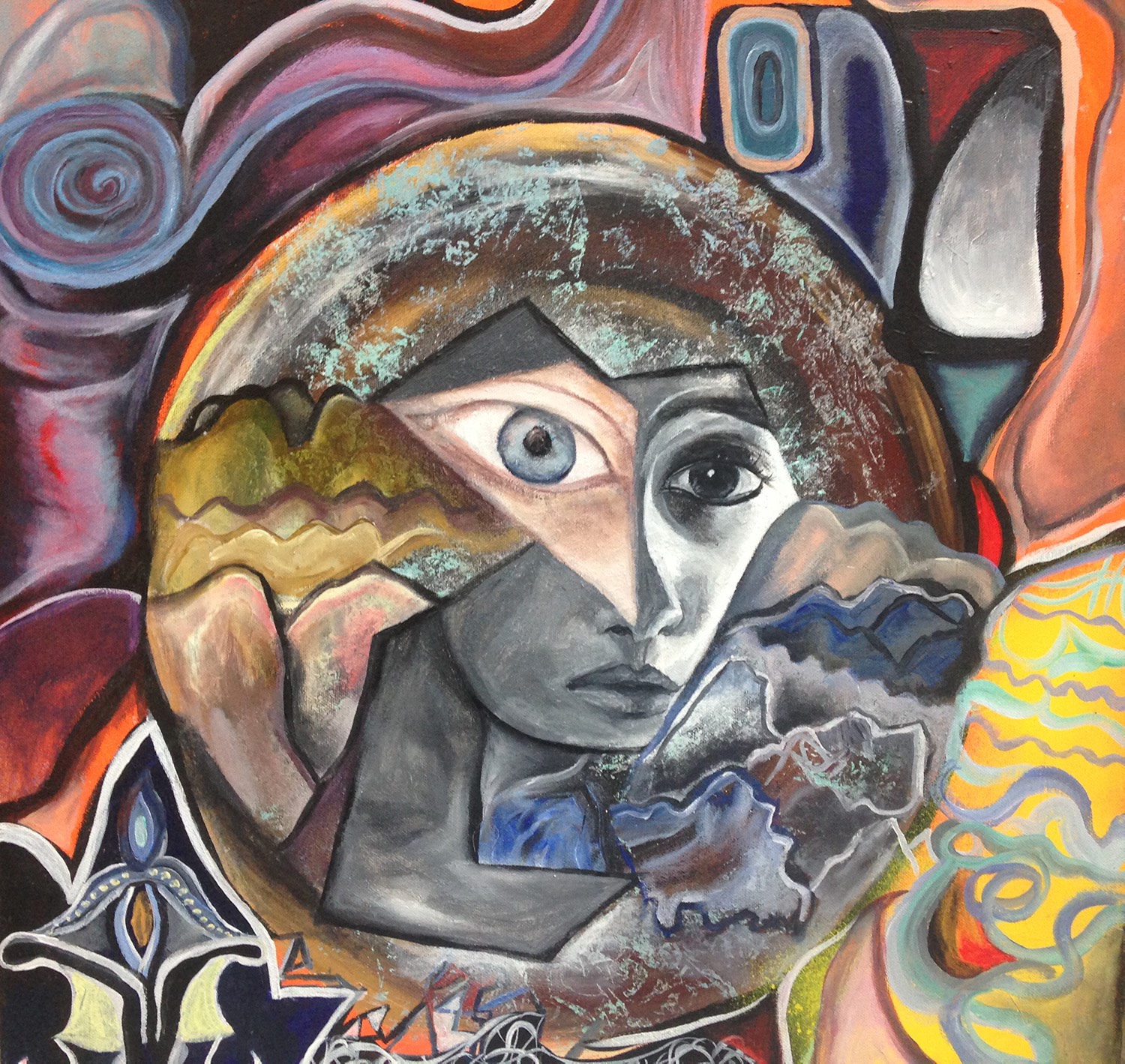 SELF PORTRAIT
Oil on canvas
Inspired by the radical aesthetic of Picasso's "Guernica", this self portrait adopts characteristics of Cubism through it's contorted, angular forms which compose themselves in a collage-like fashion. The canvas does not need to reflect the way in which we see the world. The internal rationality of the painting guides the viewer to look beyond traditional representations of realism through a fragmented image of a self portrait, depicting a real-life view in a pictorial sense.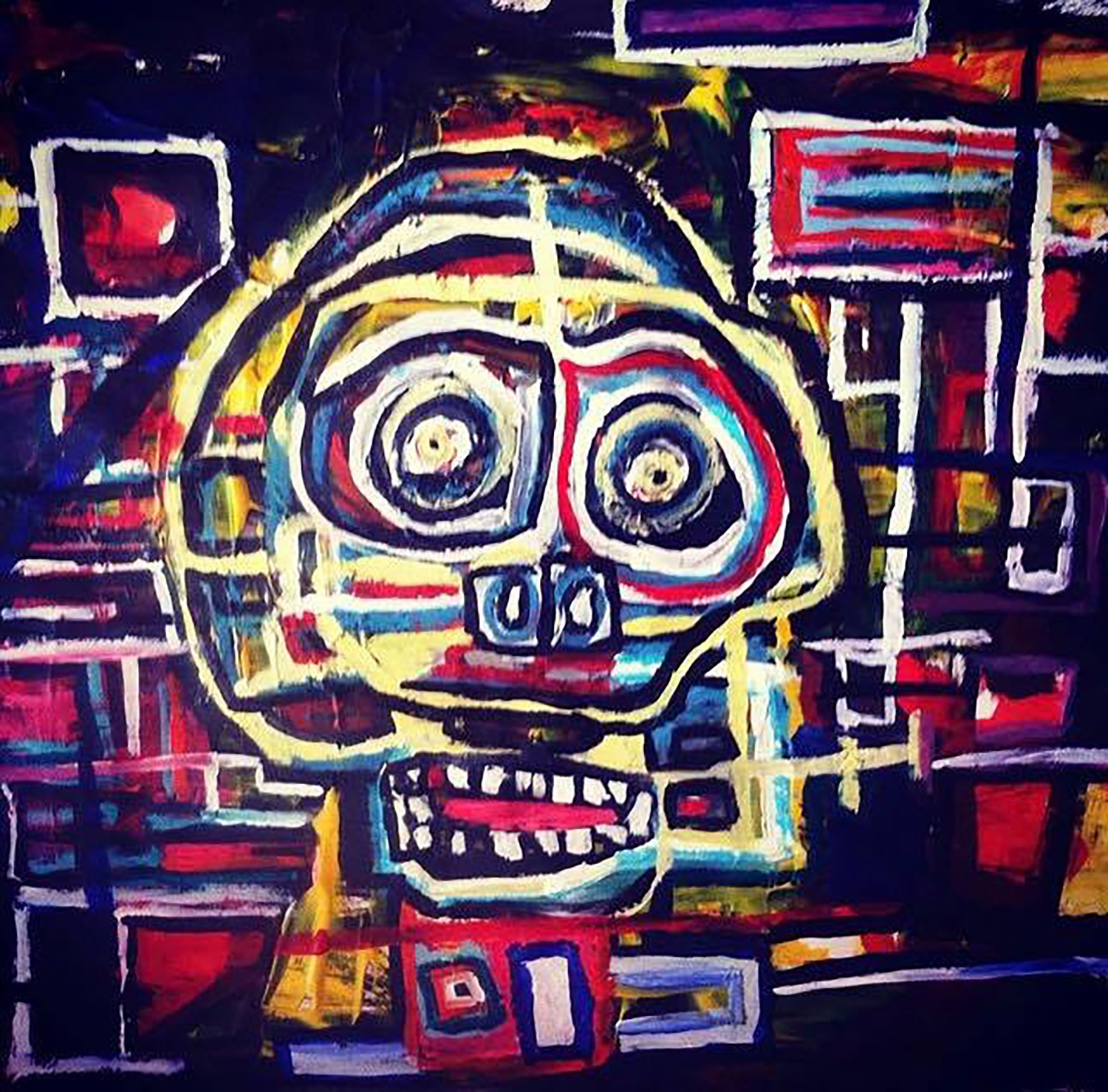 SKULL
Acrylic on canvas
The body is composed of shapes and parts that work together to form a larger, more elaborate system. It is the efficiency and complex nature of the human body that supports its linear representation. Through scrawled lines across the canvas and abstract shapes, the skull pays tribute to colour in a graffiti style whilst celebrating the intensities of expressionism.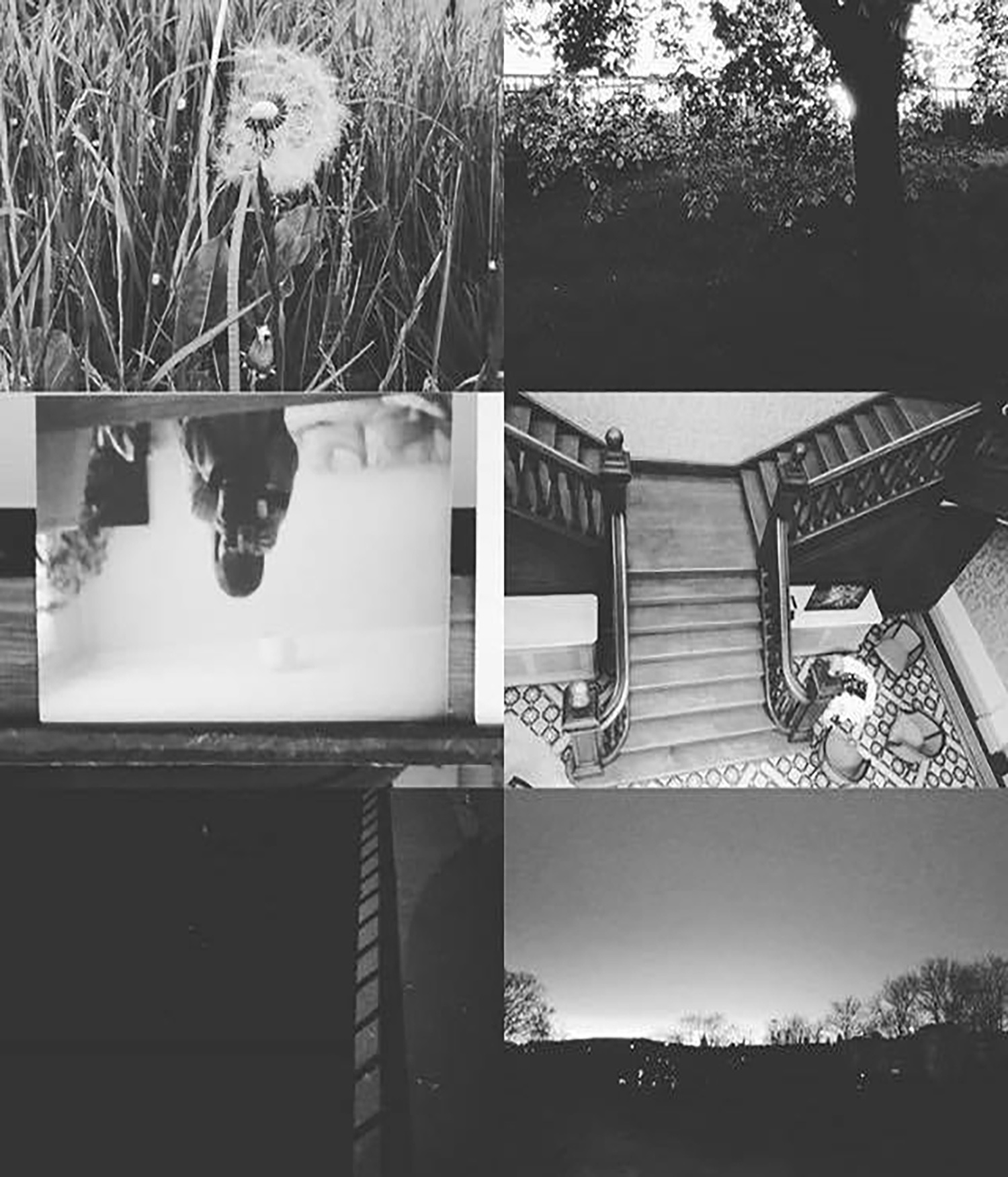 A TIME AND PLACE
Photograph
For me, the collated photographs represent a deep desire to move between places and feel a sense of belonging in time in spite of passing inevitabilities.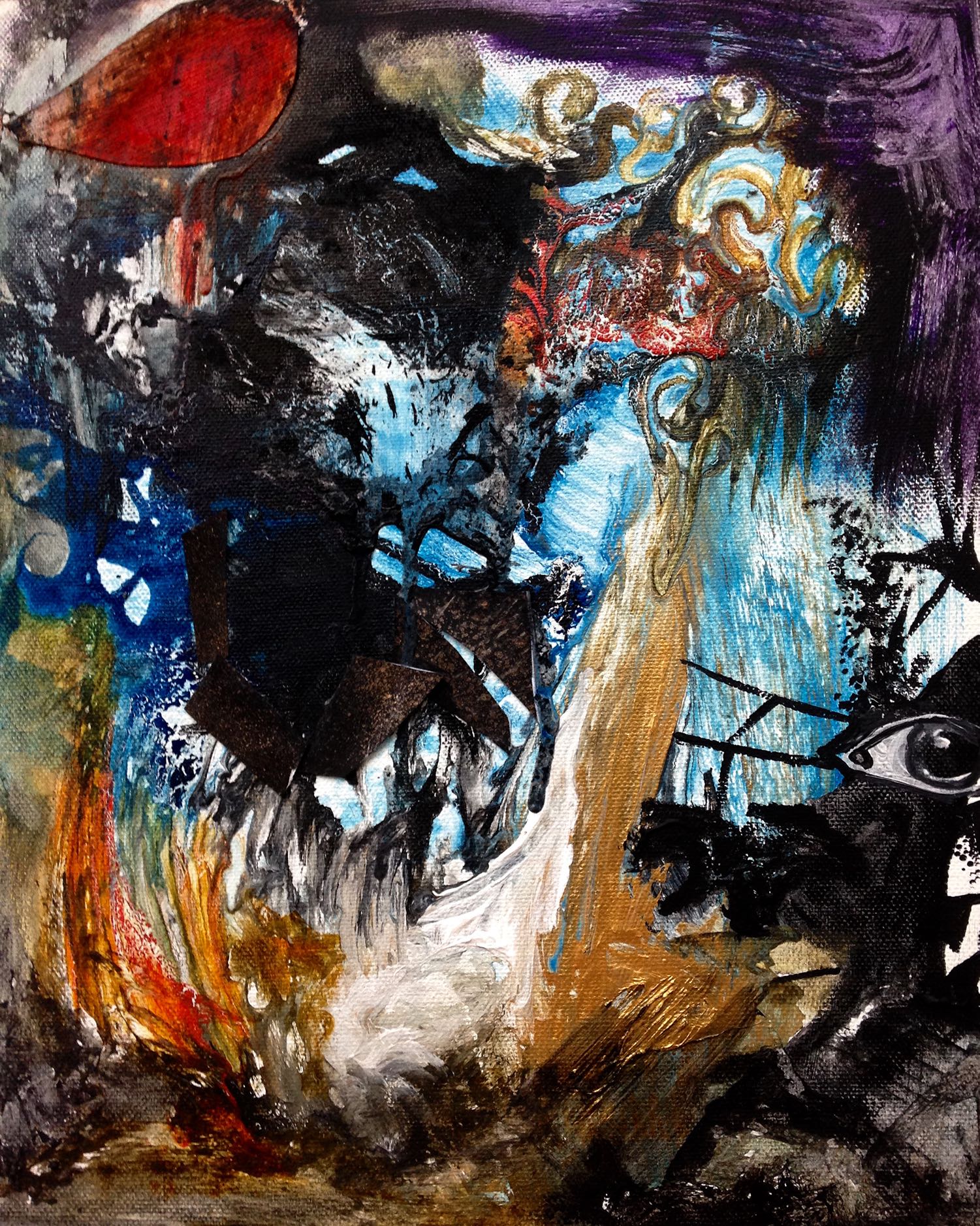 Fragile FIRMAMENT
Acrylic on canvas
Chaos lies in wait, breaching the ennui and casting aside mundane concerns. Order is broken, swept away and replaced with cacophony.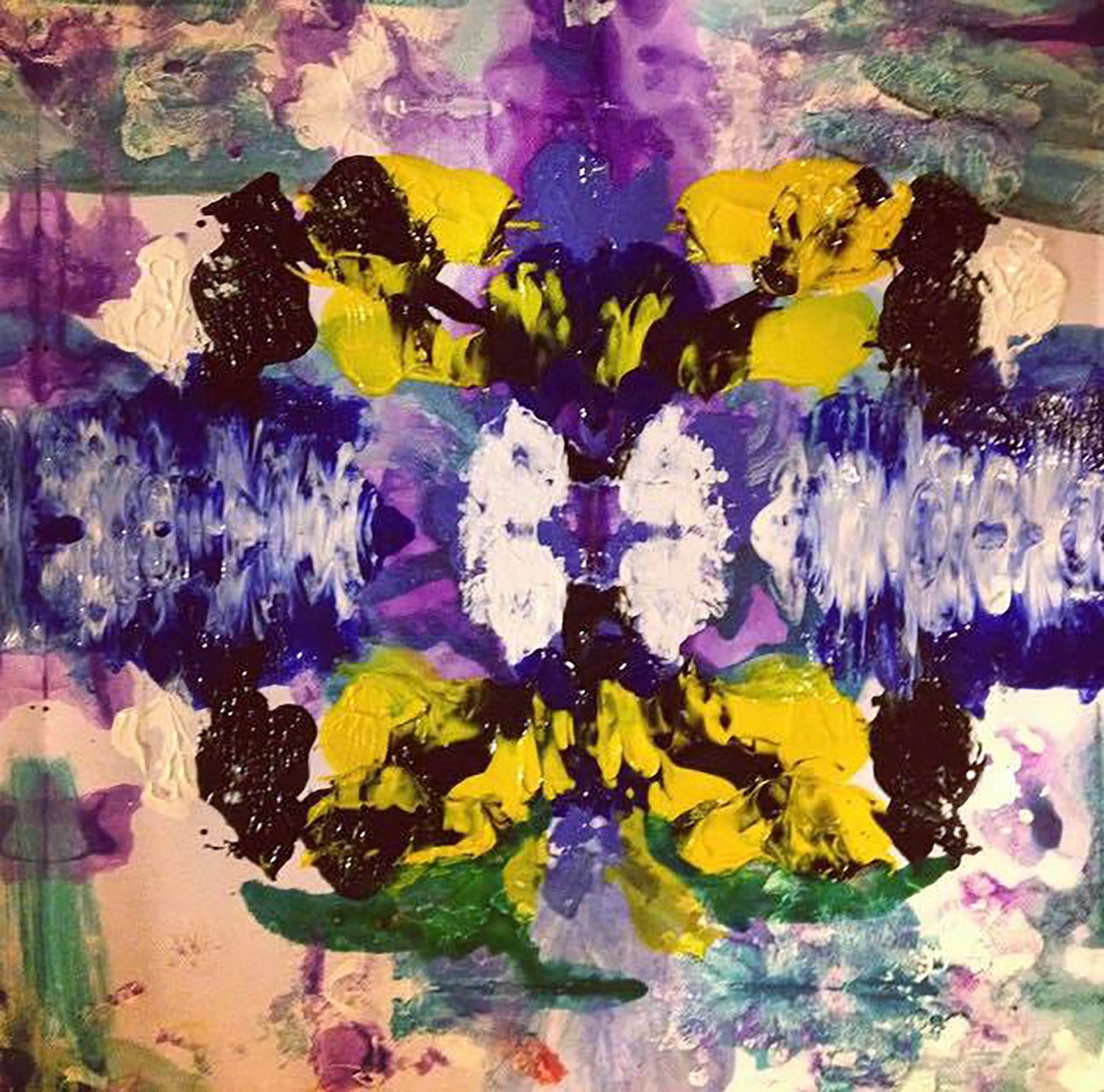 WINGS
Acrylic print
I believe that the reproduction of an image in print form provides the viewer with an entirely new experience of an artwork, being something of a tangible nature, which is marked in time. Nature as a category is very unstable and humans exceed nature through growth and modernity. This is why the subject matter here is represented as a butterfly, as they appear fragile in their form yet the printed representation draws attention to the uncontrolled growth and corruption in nature.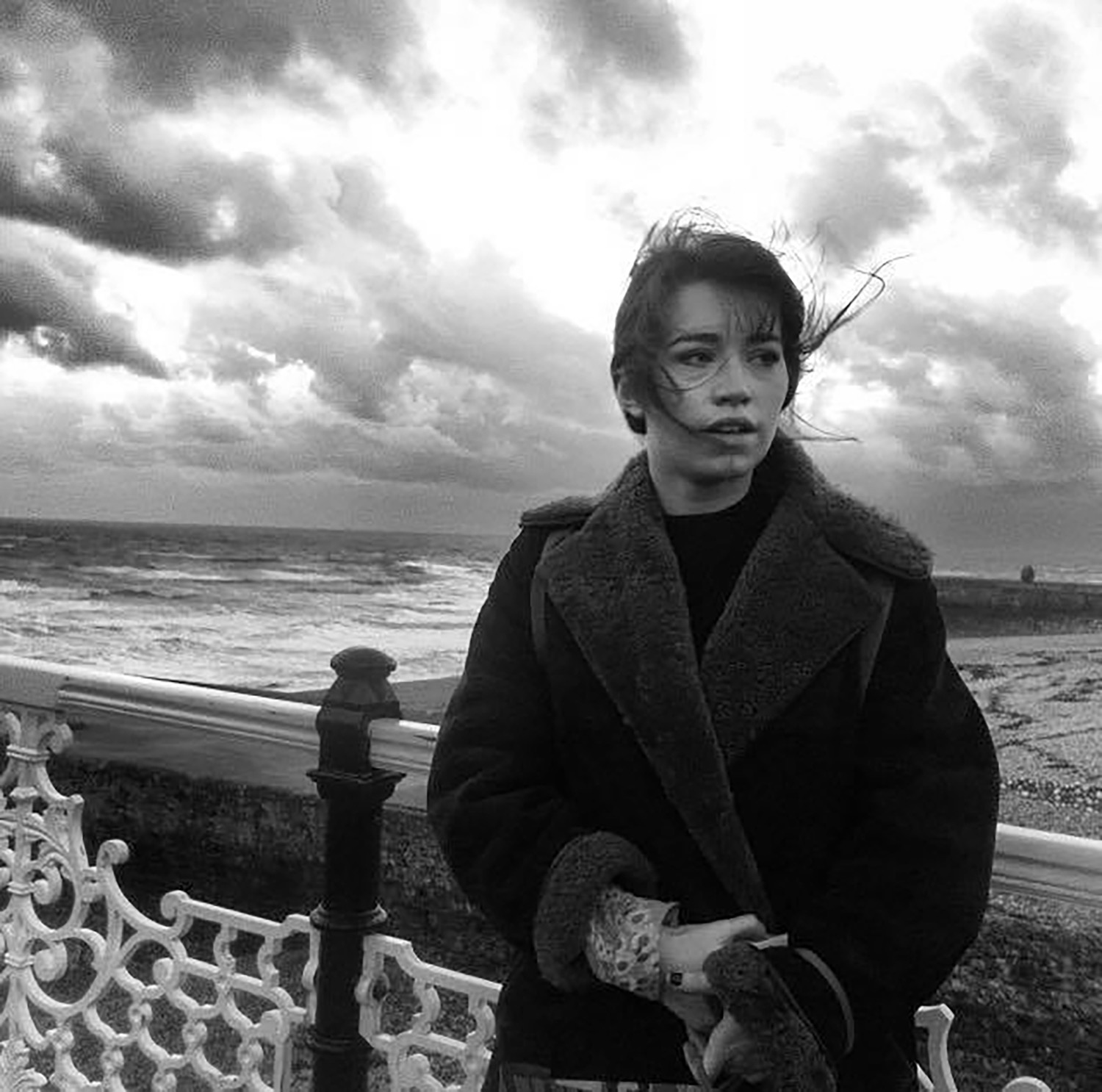 TWIN I
Photograph
Alice has always been the older twin and we are both different in personality. As a twin, I know what it is like to be compared to someone who happens to like similar to me. In history, twins symbolised the dualistic nature of the universe and opposing spirits of good and evil. It is modern culture's fascination with twins and their visual doubling that inspired me to take this photograph of my twin, Alice, who I share a very close bond with.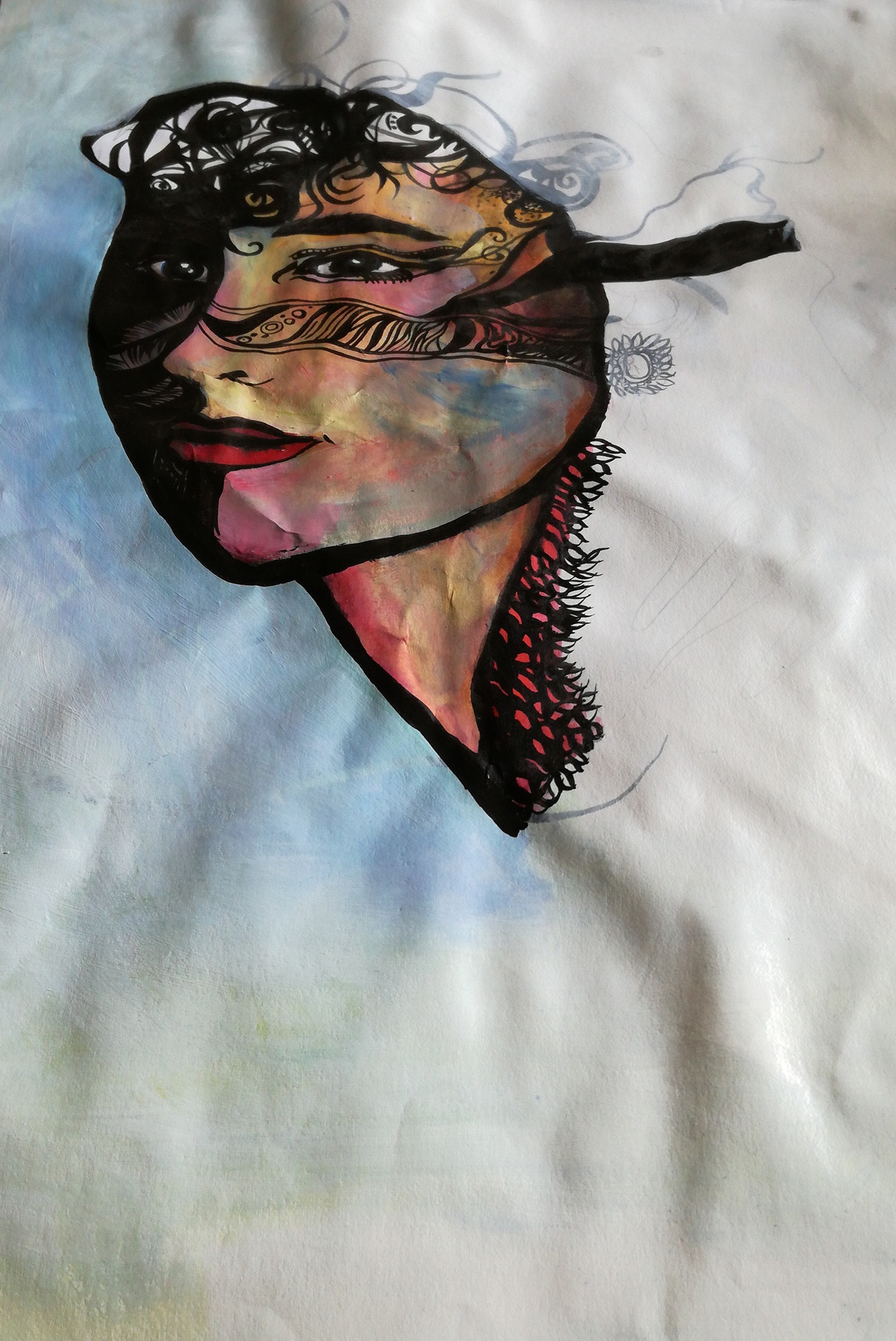 ANON
Ink illustration
The isolated portrait signifies the disassociation and manipulation of the native american female in modern culture and in native american history as it is retold. Through concealment of body parts and appropriation of female minorities in history, I was inspired by the indigenous native american communities and how the effects of colonisation still impact these communities today.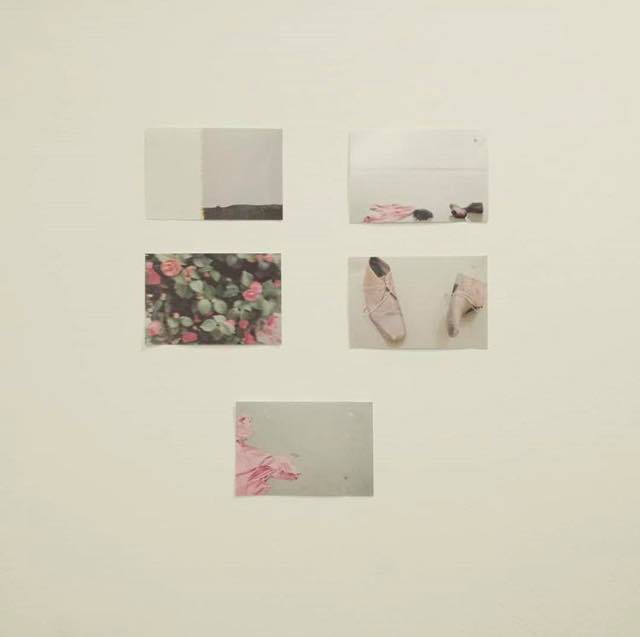 SEASIDE
Photographic series
The british weather is known for it's unreliability. As a series of islands, the country is prone to extreme weather changes and unseasonable fits of hot and cold. When it is hot, we all flock to the seaside. The seaside has changed through time and has a new meanings for those who visit; through war, holidays, climate change. This photographic series captures the stillness and sadness of the seaside as items of clothing appear to be discarded on the pale shore and it's setting indicates a darker, unresolved outcome.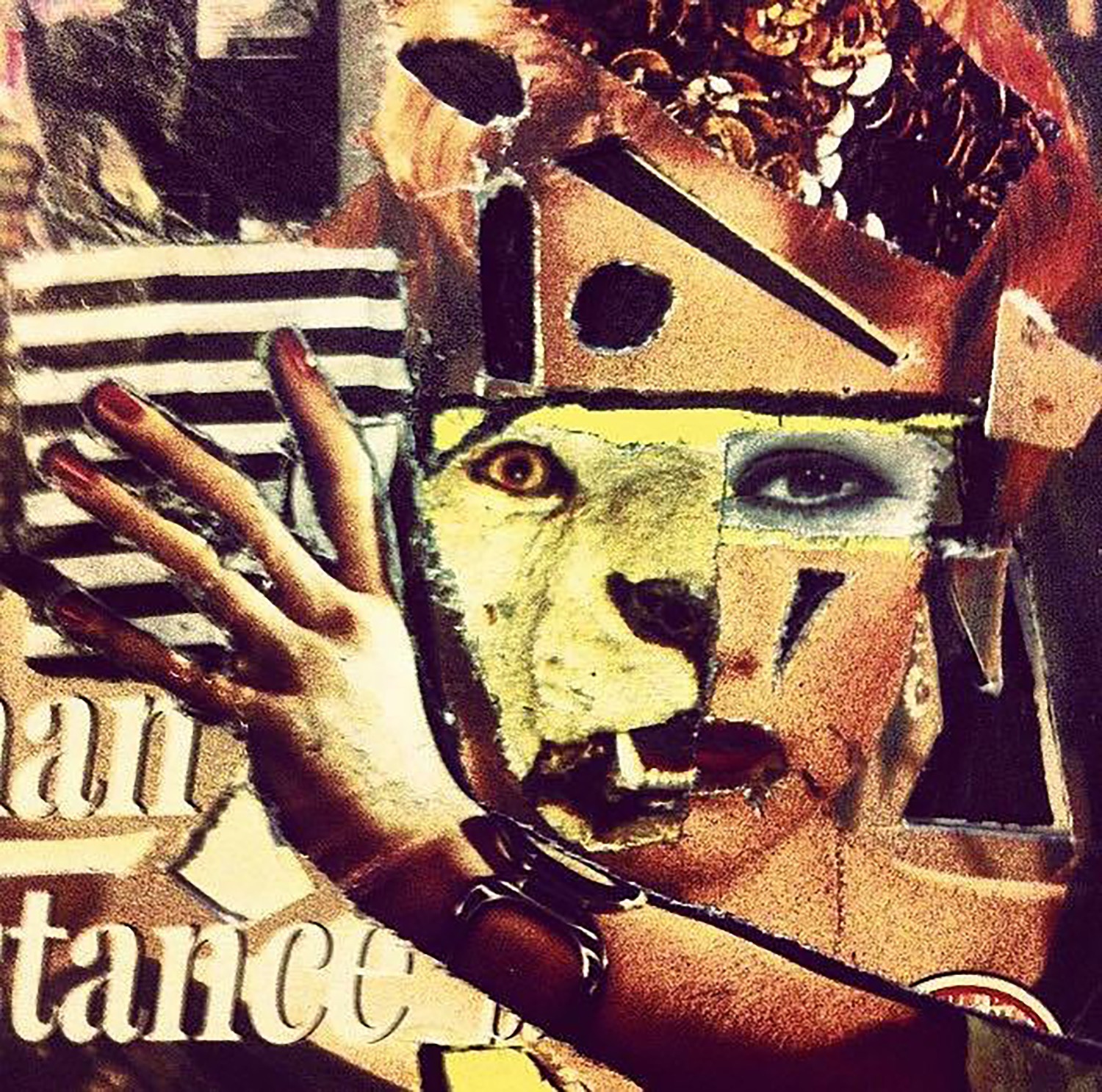 DINNER PARTY
Collage
Through derogatory terms used to refer to female animals which deliberately disrupts sexual politics and addresses satire through anthropomorphism, women have been associated with animals through social critique to embody, satirize, appraise and to be objectified as women throughout history. This collage addresses the cultural expectations imposed on women such as displayed ideas of femininity: purses, lipstick, pink dresses and highlights the imposed feminine ideals.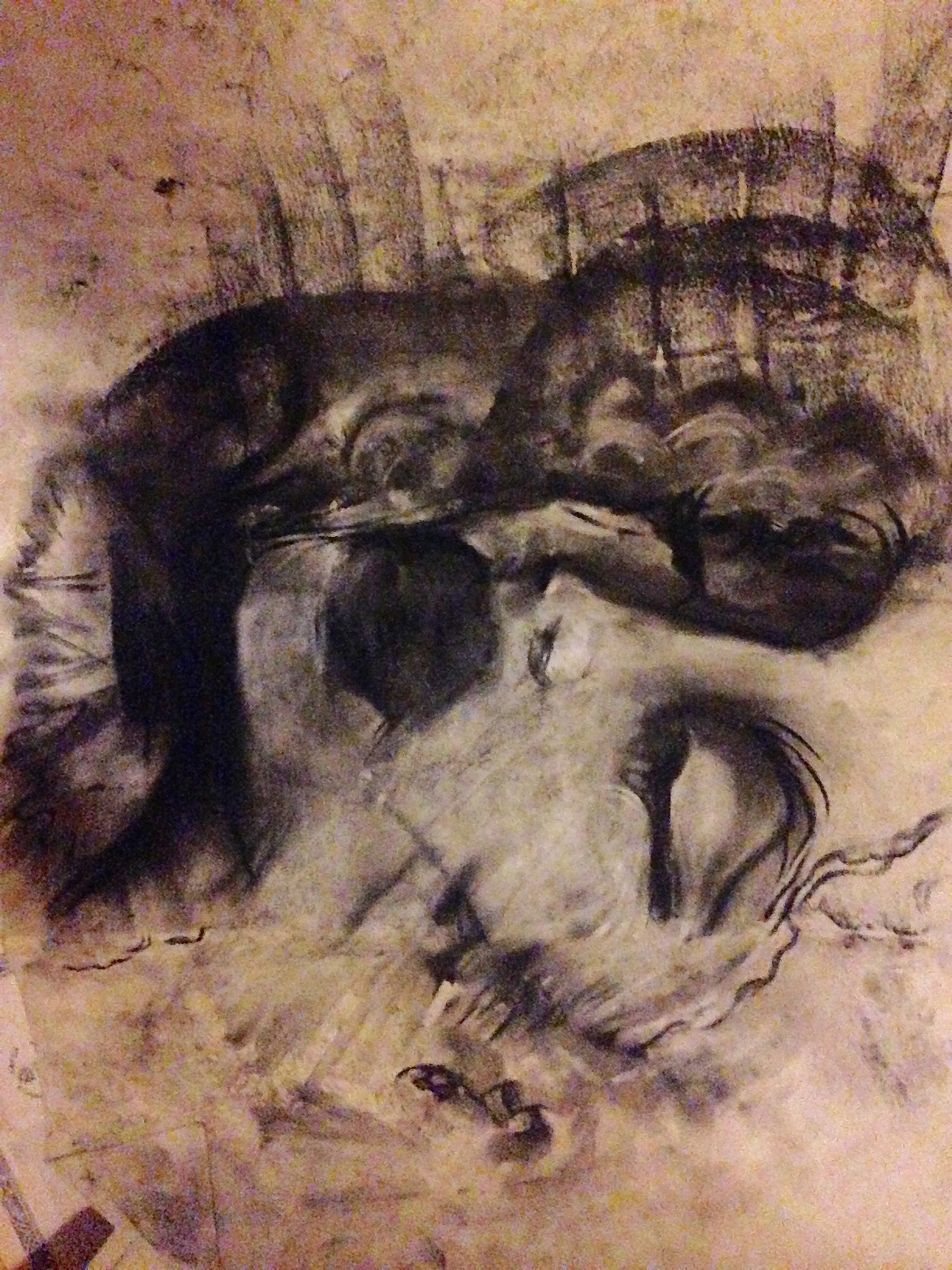 SMOKE AND MIRRORS
Charcoal on yellowish paper
It was intended for this charcoal drawing to be delicate in it's appearance. The portrayed figure appears to be smoking and in a night-setting. Charcoal, as a medium, allows for the figure to appear draped across the paper and poetic for it's tonal qualities.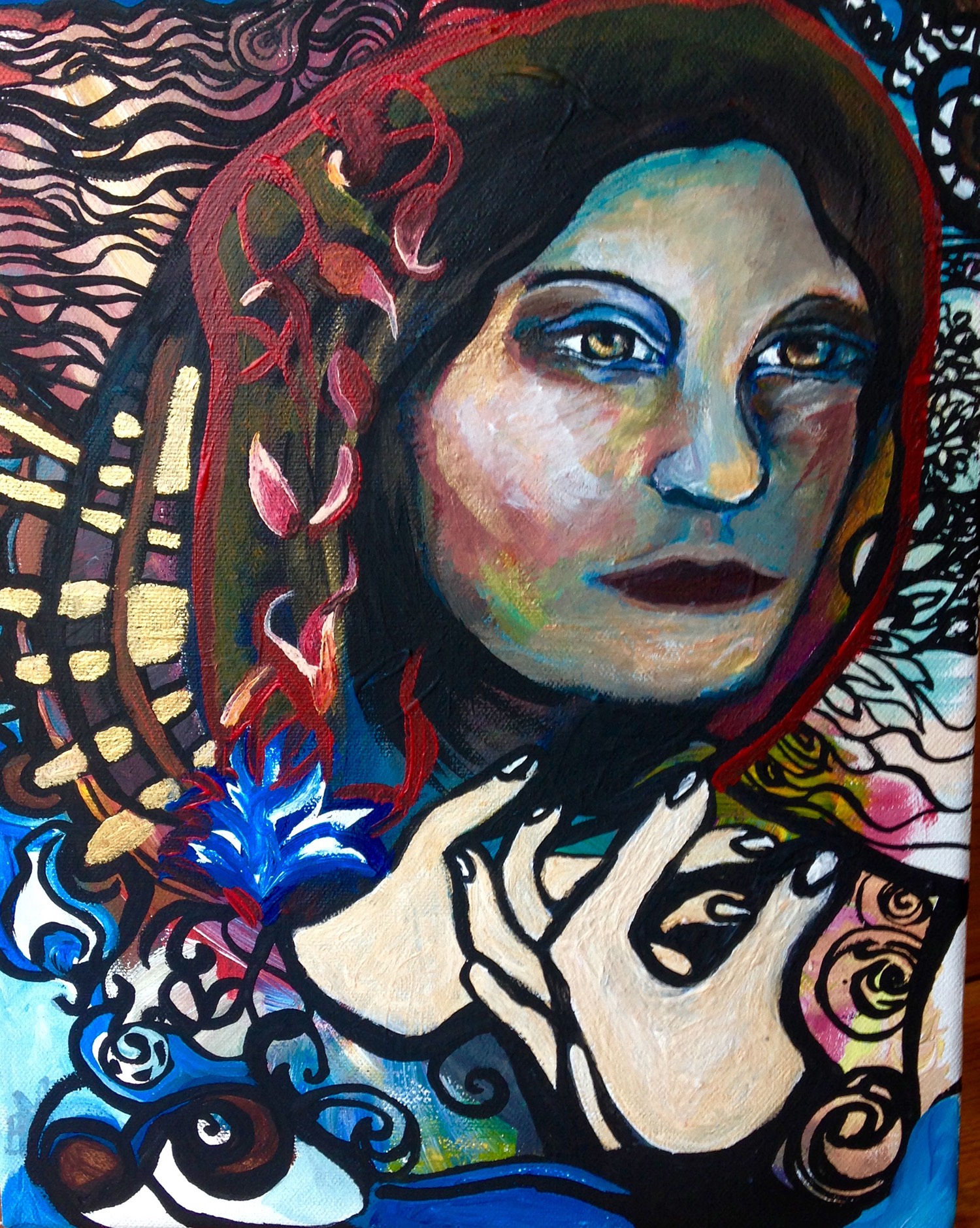 DEBBIE
Oil on canvas
As a continuation of experimenting with family members as subject matter, this painting displays my mother in the center of the canvas. I was heavily influenced by pre raphaelite practioners use of gold borders and the Russian babooshka.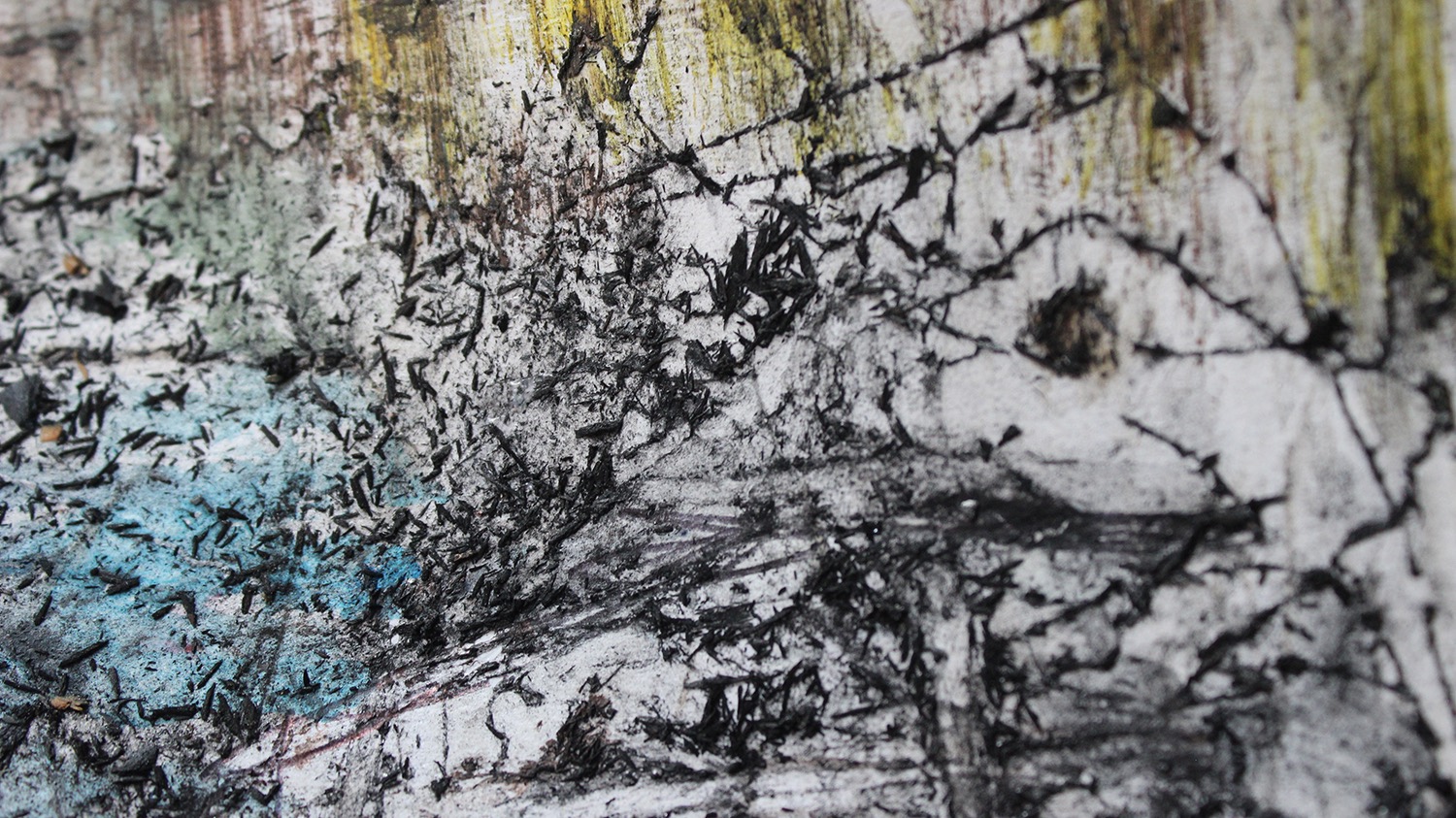 ADHERENCE
Graphite on paper
Further exploring the theme of chaos, this work uses semi directed casting of graphite shavings onto paper, causing the image to emerge and drive its own construction.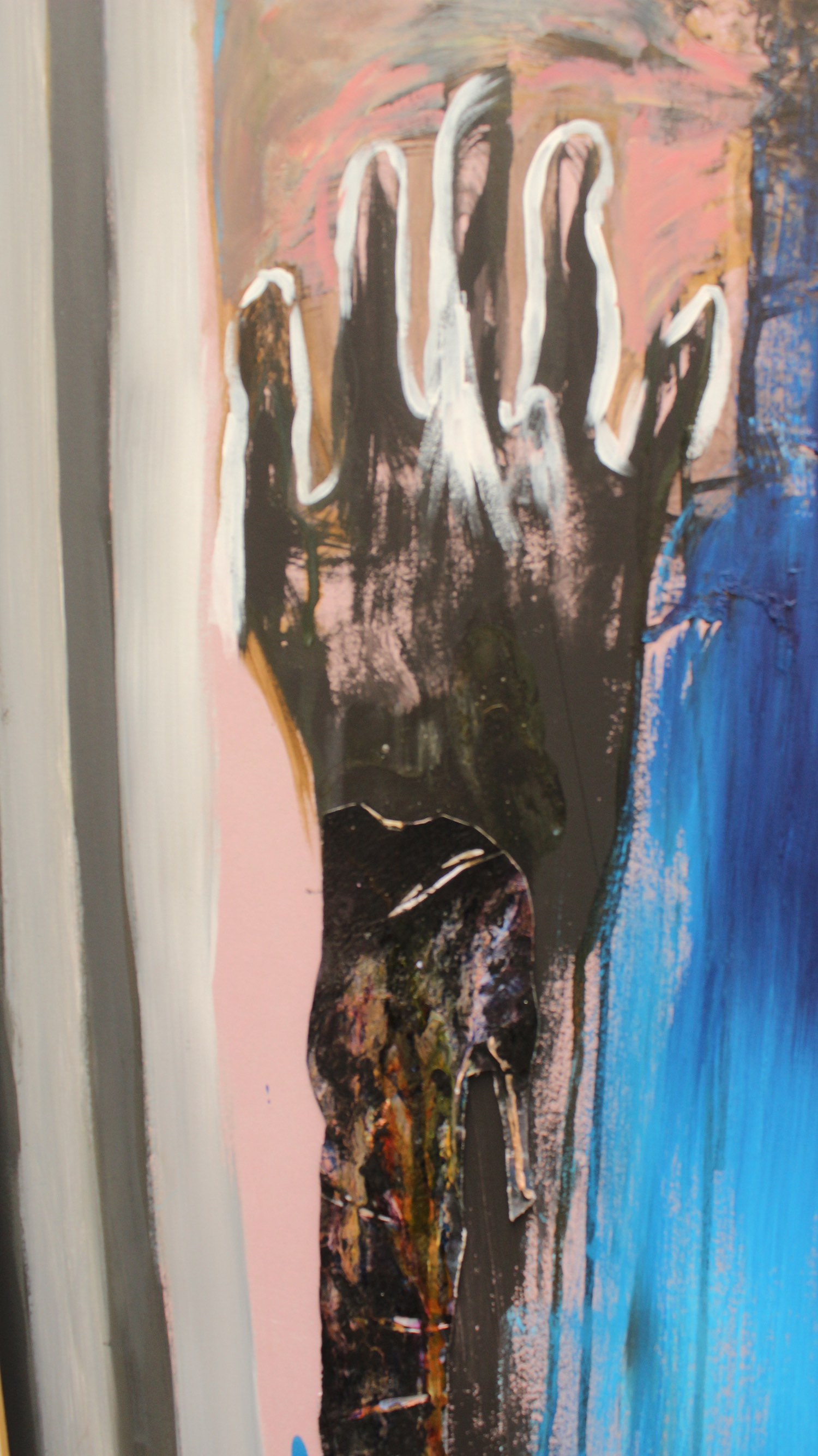 THIS IS NOT HOME
Acrylic on wood
An exploration of time spent away from home, without company. I stare through the window at an unfamiliar city and explore the transdermic illumination of my fingers.